Every outfit has its colour, every season has its colour, even every hour of the day has its colour..the important thing is to always have lipstick on. Every effortless look with a cool lipstick gets classy..just go for the right one. I'm always looking for that perfect shade that I don't even know how should be like..just like the wedding dress.. you feel it when a lipstick is your lipstick. The only issue with lipsticks is quality.. it's not about the brand or the price..not even about the colour really..cause every make up line has a plain red lipstick in stock but it's not that easy to find a long lasting lipstick which stays on just how you put it on in the morning and has the right finish. I wouldn't really define myself a make-up-obsessed but I for sure love when my make up is on point and sooo.. from my brief and basic experience here are the lipstick I tried and would by again ..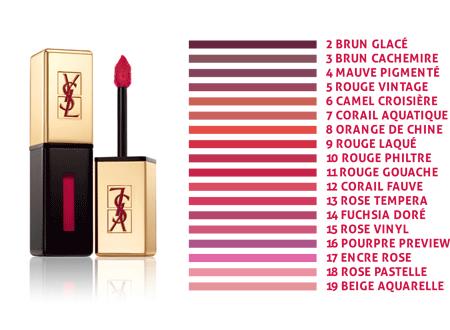 YSL PUR COUTURE VERNIS A LEVRES






I tried this lipstick in "Rouge Laquè" and really.. once you put it on you can be sure that it will stay just there (even if you drink or eat). The finish is quite glossy and that might not last that much but the matte effect after a while is just as nice
LIME CRIME-CAROUSEL GLOSSES



I love lime crime..maybe it's more because of the packaging than for the products themselves.. I tried the velvetines and I didn't find them that good as everybody seems to say.. they are really dry and they tend to crack after a while.. by the way my impression on this one is totally different. I tried the colour CANDY APPLE which is this shiny super glossy liquorish bright red and i'm planning to buy the transparent version as well cause really this is good! It is probably the most long-lasting lipgloss I've ever tried.. The shade is a bright glittery red..of course being a gloss as much as it stays on for a long time by the end of th night it will be just a matte red lipstick but be sure it will be there!
KIKO DOUBLE TOUCH
i've got it in so many shades.. Just that perfect everyday lipstick that you put in the morning and forget about it.. and you can turn it into a lipgloss by adding the second finiture.. which is slightly too sticky for me but that gives a nice extra volume.
RIMMEL LONDON-PROVOCAL LIPS
The absolute winner of the long-lasting double sided lipsticks is this one. I tried the colour "kiss me you fool" which is a deep red nuance and I LOVED it.. sleep with it on and wash your face the day after.. it will just be like when you first put it on.
MUA FAWN FANCY
On the side of matte colours I like this ones from MUA so much! They're probably the less expensive lipstick you'll ever be able to purchase (around 1/2 dollars) and you can find them on the brand website. I tried these in liliac and in a brownish nude. They're not as longlasting as designer ones but they're of course worth more than the price.. and I like the fact that the colour you see on the bottom of the lipstick is usable itself with a brush .. thumbs up!
LIME CRIME-PERLEES
On my "wants to try list" at the moment there are a couple lipsticks.. These are from limecrime's latest collection and I'm actually curious about these because of the colours.. most of them are quite too strong for me.. but that reddish and light pink ones could suit just fine.. gotta try and tell you back
KYLIE JENNER-LIP KIT
These are everywhere. I'm not gonna lie I would buy them cause it's Kylie Jenner.. I like the colour as well but nothing I couldn't find somewhere else anyway.. but yes from reviews here and there they seem to be like the only good lipsticks and some new colours are out now ..so yeah..wanna give it a try.. maybe the middle colour.. don't know.. the brown one is quite too dark for my pale skin tone.. and the lightest too whitish I guess..
So yeah.. did you try any of these products and had my same impressios?